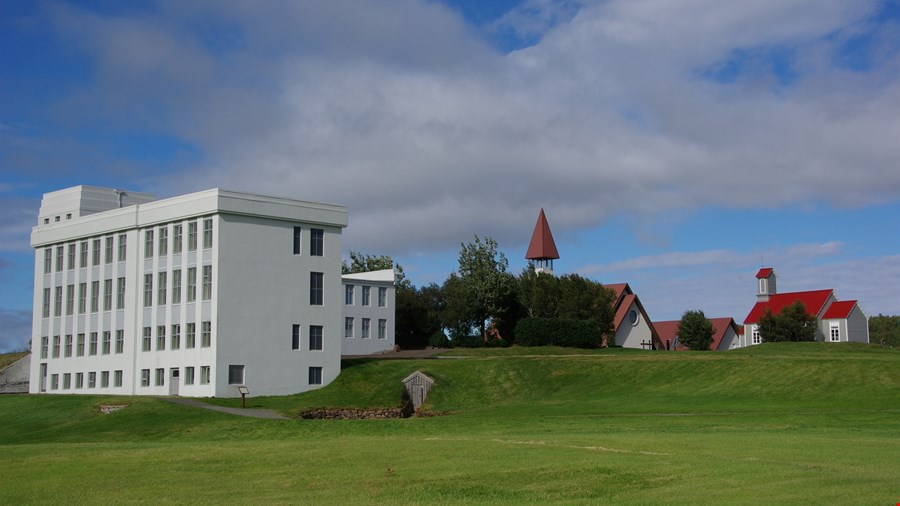 Welcome to Reykholt, one of the country's most renowned historical sites. The writer, scholar and chieftain Snorri Sturluson took up residence in Reykholt in 1206 and was killed here in the autumn of 1241.
Snorrastofa provides services and education to visitors in the visitor's reception. It can be found on the ground floor of Reykholt's church – Snorrastofa, where there is an exhibition on Snorri Sturluson and visitors are able to get guidance and lectures of varying lengths about Snorri, Reykholt and the middle ages.
Live lectures and presentations for groups are a great addition to the visit to Snorrastofa. Lectures and guided tours are offered in Icelandic, Nordic languages, English and German.
Guided tours around the building are also available. We emphasise offering a personal service.
We look forward to meeting you in Reykholt.
A video commissioned by the Culture Council of West Iceland in 2014…
Visitor's Reception's Opening Hours
1 May – 31 August every day 10 – 17
1 Sept. – 30 April weekdays 10 – 17
Otherwise by arrangement
1 May – 31 August:
every day 10 – 17
1 Sept. – 30 April:
weekdays 10 – 17
Otherwise by arrangement.