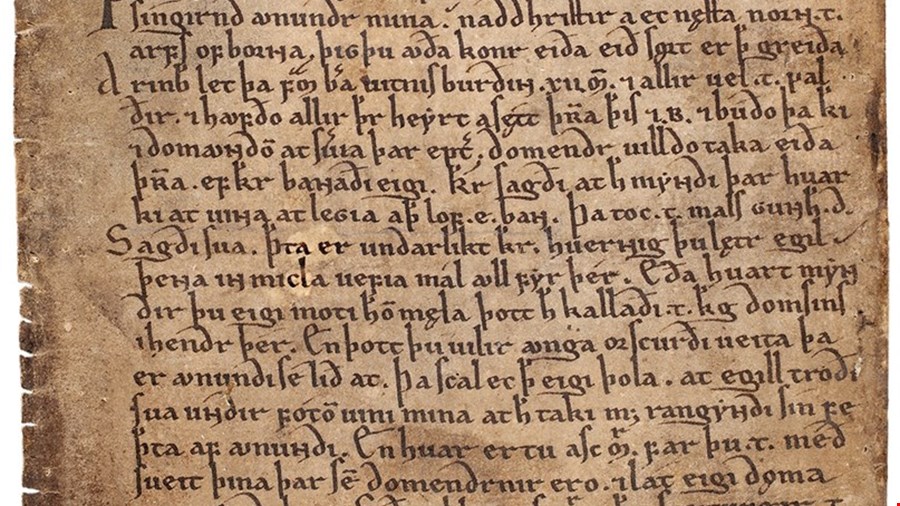 About the RÍM-project
The RÍM project
The project "Literary culture of the Icelandic Middle Ages" (Ritmenning íslenskra miðalda) was formally launched on August 22nd 2020. It is a project for five years, but its main goal is to strengthen research related to the places in Iceland, where literary culture flourished in the Middle Ages, are related to archeology, history, textual studies and literary studies. The reason for this is that 75 years have now passed since the establishment of the Republic of Iceland.
On this occasion, a declaration of co-operation was signed between the Prime Minister's Office, the Ministry of Education and Culture, the Ministry of Finance and Economic Affairs, the Árni Magnússon Institute for Icelandic Studies and Snorrastofa. The signing took place in Reykholt in Borgarfjörður, where Snorrastofa operates as a cultural and medieval center. The day-to-day management of the project will be handled by Snorrastofa.
The aim is to provide ISK 35 million for this project for five years from the year 2020. The Ministry of Education, Science and Culture, which is in charge of it, will advertise for applications for grants and appoint an allocation committee when they are available. The Allocation Committee makes proposals for allocation, in collaboration with Rannís, to the Minister of Education and Culture, who decides on the allocation of grants in consultation with the Prime Minister and the Minister of Finance and Economic Affairs. "(Taken from the Prime Minister's website August 22nd 2020.)
The declaration of co-operation
The board of the project consists of Guðrún Nordal, chairman, Ágúst Sigurðsson, mayor of Rangárþing ytra and Margrét Hallgrímsdóttir, national conservationist.
Snorrastofa handles the day-to-day administration of the project and an agreement to that effect was signed in Reykholt, on Saturday February 12th 2020.
Progress of the RÍM project:

Application form January 16th, 2021. Download the document and save it on your own computer
Cost estimate, additional form (Excel) for application 2021.
First allotment on Ascension Day, May 21, 2020
Advertisement for applications for the project, published February 12th 2020
Allocation rules February 12th 2020
February 2020 – The project launched
August 2019 – Declaration of co-operation signed
1 May – 31 August:
every day 10 – 17
1 Sept. – 30 April:
weekdays 10 – 17
Otherwise by arrangement.