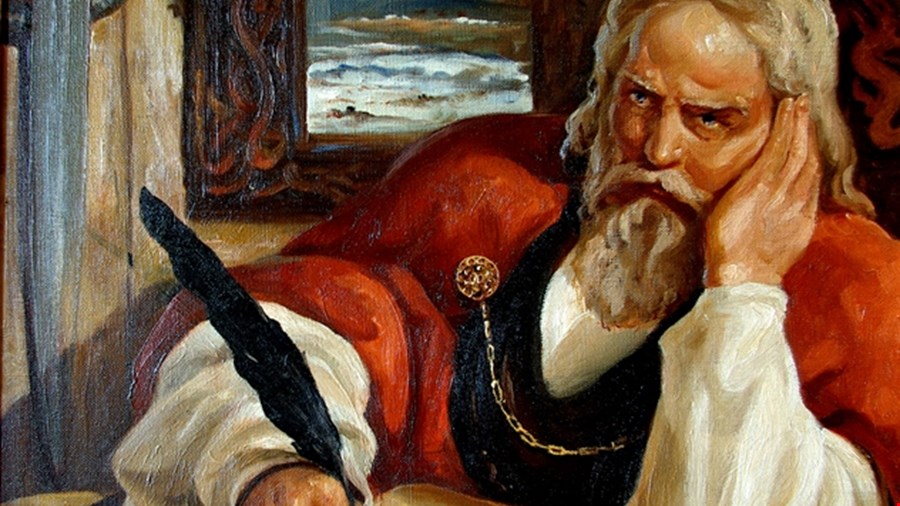 Snorri Sturluson — stutt æviágrip

eftir Óskar Guðmundsson
Snorri Sturluson (1179–1241), a chieftain in Reykholt, a storyteller and politician, was one of the most well-known Icelanders of all time.
The author and poet Snorri preserved the Nordic cultural heritage in his work, but it is no less tempting to regard Snorri as a cosmopolitan, a man who nurtured a multinational Catholic culture – and was a direct and indirect participant in European culture and politics.
The politician Snorri made a strong impression on his society in the thirteenth century. He is credited with many of the most magnificent literary works of the Middle Ages in Iceland: Snorri's – Edda, Heimskringla – the story of the kings of Norway and Egil's saga. Snorri also had a dramatic life, and both he and his work have become an inexhaustible source for artists of modern times. Snorri Sturluson's story is discussed in a special exhibition organized by Snorrastofa in Reykholt.
---
Origin and childhood
Snorri Sturluson was born on the farm of the settler Auður the Deepminded, Hvammur in the Dales, in 1179. His father was a hard-nosed small chieftain, Hvamm – Sturla, and there were many stories about him. His mother, much younger than her husband, was Guðný Böðvarsdóttir which came from a noble family of chieftains in Borgarfjörður. Her relatives were involved in a great deal of controversy around 1180 – Deildartungumál, which led to Snorri Sturluson being adopted in Oddi at Rangárvellir in southern Iceland from the age of three. His foster father Jón Loftsson was the main chief of the country for many years. Jon's mother was an illigitimate daughter of one of the kings of Norway, but his paternal grandfather was Sæmundur fróði Sigfússon, who studied in southern Europe and is believed to have written a summary of the Norwegian king's lives in Latin. In Oddi, a school was held in the twelfth century by Sæmundur and his descendants – and in that school Snorri is believed to have attended classical education as well as studied folklore, genealogy and jurisprudence.
---
Snorri travels around the West and beyond…
With the support of the people of Oddi, Snorri gained influence and power in the South as well as in the West at an early age. Sæmundur Jónsson, the leader of the Odds, and Þórður, Snorri's older brother, arranged a marriage for Snorri in 1199 to Bersi Vermundarsson's daughter, Herdís. The intention was for Snorri to be able to farm on the estate – Hvammur in the Dales, but this was not possible, perhaps due to the opposition of Snorri's other brother Sighvatur. The young couple instead lived their first marriageyear at Oddi, but when Bersi died in 1202, Snorri took over the management of his farm, Borg, and his chieftainship, Mýramannagoðorði.
In the following years Snorri gained influence and power in the West, he got half the lordship of Lundur, the lordship of Stafholt and Gilsbakki, so that he became one of the most influential chieftains of the country. He received some of these titles with the help of his friends and sisters-in-law Snælaugur Högnadóttir and Guðrún Hreinsdóttir. Guðrún was Snorri's mistress for many years and had several children with him, but only one of them survived. With his wife Herdís, Snorri had two children who grew up, Hallbera and Jón who was called Murtur.
In 1206, Herdís Bessadóttir divorced Snorri and he moved to Reykholt, which was very convenient for transport. Reykholt was well situated at a main crossroads and was well located centrally in terms of military position. From there, Snorri Sturluson spanned a web of power and influence all over the country – and out into the world. For the first few years, Guðrún Hreinsdóttir, his mistress, lived with him, and their daughter Ingibjörg. But Guðrún Hreinsdóttir soon disappears from history, most likely dying at a young age. With other women, Snorri had more children: Órækja with Þuríður Hallsdóttir and Þórdís with an unnamed woman.
---
Snorri friend of the church
Snorri had a very friendly relationship with the church and had authority over large church centers such as Reykholt and Stafholt. From the turn of the century he was in close friendship with the bishops, Páll Jónsson in Skálholt and Guðmundur Arason in Hólar. The church center in Reykholt was in many ways like a monastery – or a large company at the time. Churches in the vicinity were served from the church center in Reykholt and were accompanied by several learned men. With such a learning center, Snorri's possibilities for writing and spreading literature increased.
---
Lawspeaker traveling abroad
Snorri was elected a lawyer at the Althing in 1215 and served there until he embarked on his first foreign trip in 1218. There he stayed among the aristocrats, first with King Hákon and then Earl Skúli in Túnsberg. In the winter of 1219 he went to Gautland to visit Áskell the lawyer and the noblewoman Kristín Nikulásdóttir. Then he went back to Norway, north to Björgvin and Niðarós, back to the court. He managed to prevent the planned Norwegian war against the Icelanders and was honored with the highest respect of the kings court – first a porter and later a king's man. With that, Snorri had become one of the most powerful men of the Norwegian court. It has been disputed whether he promised to formally submit the country to the King of Norway in this voyage, but the fact is that from the time of the settlement, the Norwegian kings had been influential in the settlement of the Norse people and had much control over their North Atlantic settlements.
When Snorri Sturluson returned home in the summer of 1220, he and the chiefs of Haukdælar's southerners soon became very close. At the same time, his brother Sighvatur and Sighvat's sons, Sturla, were in fierce opposition to Snorri. He tried to make peace with Þorvaldur Gissurarson Haukdælar's chief – and in the next few months Gissur Þorvaldsson got to marrie Snorri's daughter Ingibjörg. Þorvaldur and Snorri decided to found a monastery in Viðey, and Snorri married, Hallveigar Ormsdóttir, Þorvaldur's widdowed daughter-in-law. The couple had children togher though none of them lived to adulthood. After Snorri married Hallveig he seems to have remainde faithfull to her. At least he didn't sire any children out of wedlock after that.
---
Snorri the master storyteller
For the next three years 1220–1223, Snorri referred to Stafholt as his main farm, propably do to the extensive constructions of houses and dwellings in Reykholt. A large fort was built around the house and the place was strengthened as a church- and study center. There was a community of learned men, priests who practiced tithes and worship daily, and served the churches and houses of worship of nearby farmers. There were also countless writers and disciples who must have gone to work as writers with and for the poet Snorri. "I had this book written" says Snorri in one of Heimskringla's forewords, thus indicating that he read for it – edited it – rather than wrote it himself. He also gives the same example in Ólafur Tryggvason's story, where suddenly is says in a text: "I want the next thing to be written down to be about Icelandic men."
Many believe that a literary work attributed to Snorri Sturluson has in common that it is characterized by theoretical meticulousness – compared to the time of writing – as well as stylish humor and superior knowledge of the cultural heritage, poems and stories from oral history and the ability to process sources. This applies to Snorri's Edda; Skáldskaparmál, Gylfaginning and Háttatal, King of Norway stories (Heimskringla) and Egil's story. The storyline is each and every one of them the whole world.
Snorri had many problems, all his children rebelled against him, some of them died at a young age, others were opposed him for a long time. The same is true of his brother Sighvat and his sons, who repeatedly attacked him with military force and violence. Snorri had gained influence with the help of Odds and was actually in their party at the beginning of his career. But as time past so did their support.
Although Snorri was considered a cunning politician and a playful writer, people thought he was a devious soldier and accused him of sanctity and cowardice when conflicts were imminent. He was a man of peace and retreat during the days of the armed ages – the knighthood. Nevertheless, he was for a time the most powerful man in the country, because he posessed other talents much better for profit.
---
Iceland Snorri's domain
After a fierce political conflict in the 1940s, Snorri returned to Norway in 1237. In that time was an enormous tension between Skúli Duke Bárðarson, who had long been the most powerful man in Norway, and King Hákon Hákonarson. Snorri had always been friends with Skúli and in this trip their friendship was strengthened even more. It is even unlikely that Snorri met the king on this trip because he stayed in Niðarós with Skúli.
Before Snorri returned to Iceland, Skúli secretly ordained him as earl, presumably with the intention that he himself would be king of Norway and his friend, Snorri Sturluson, earl of Iceland. King Hákon forbade Snorri and his companions to go to Iceland, but Snorri is suposed to have said: "I want out!" And went back home to Iceland.
In the following months, Skúli was accepted as king in several parliaments around Norway. His demands for kingship may well have been based on material from Snorri Sturluson's workshop, historical and genealogical arguments were led to the legitimacy of the claim to the throne. As the winter of 1240 wore on, Hákon's men were better off – and so it came to pass that Skúli was killed on May 24th 1240.
---
The fall - the conspiracy - the murder
There were many similarities between those friends, Snorri and Skúli, and their destinies were woven together. The summer of 1241 was a difficult time in Snorri's life, he lost his wife Hallveiga in July and was very saddened by her passing. King Hákon sent a letter to Iceland requesting that Snorri come to Norway and be held accountable for his actions. Gissur Þorvaldsson and other former sons-in-law went with parties to Snorri in the autumn of 1241, most of the leaders of the parties were descendants of his fosterfather Jón Loftsson. It can therefore be said that those who created the politician Snorri Sturluson and supported him in power, the Odds, took the lead in ending his life. Gissur and his companions came to Reykholt on the night of the funeral on September 23rd and killed the poet. Snorri is said to have reminded his killers of the sixth commandment Thou shalt not kill when he said: "Thou shalt not strike!"
1 May – 31 August:
every day 10 – 17
1 Sept. – 30 April:
weekdays 10 – 17
Otherwise by arrangement.