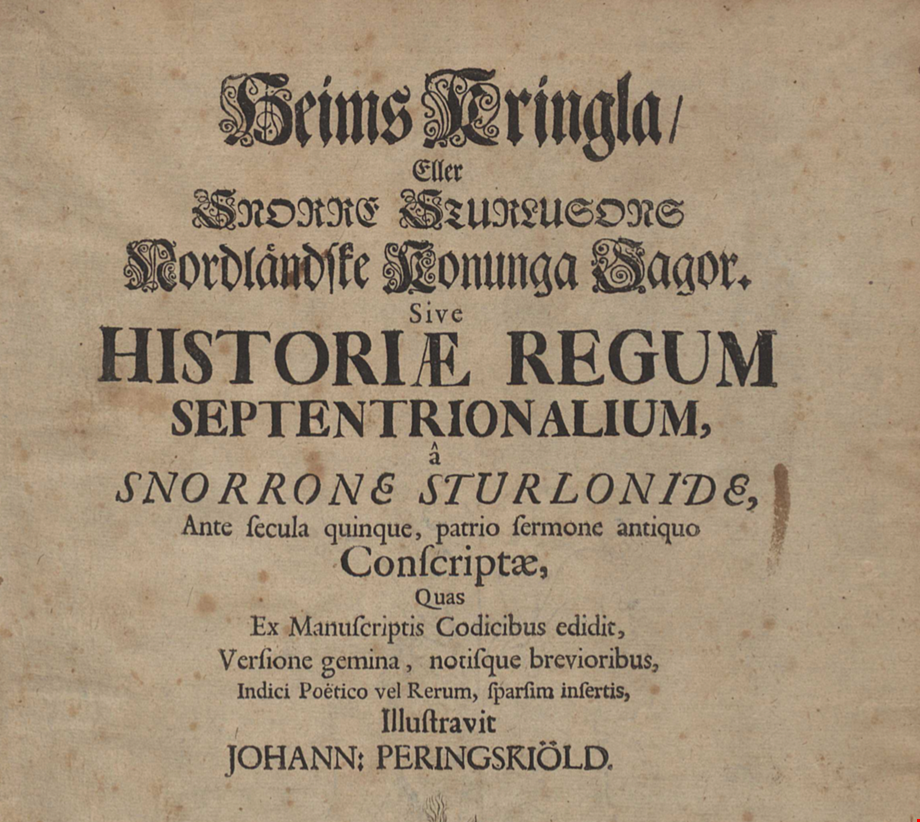 September 28. - 30. 2022
Renaissance conference in Snorrastofa Reykholt
Snorrastofa Reykholt
17:00             Departure from BSÍ – Reykjavík Bus Terminal
18.30–19.00: Arrival in Reykholt
19.00–21.00: Dinner
Thursday 29 September
7:00 Breakfast 
7:45 Registration 
8.00: The Conference Hall
Welcome by Bergur Þorgeirsson, Director of The Snorri Sturluson Research Centre Welcom by Marianne Pade, Chair of The Nordic Network for Renaissance Studies Short welcome and practical information by Gottskálk Jensson
8.30: The Conference Hall
Professor emeritus Helgi Þorláksson: Reykholt in the Time of Snorri Sturluson
9.15–10.45: Papers
Iter septentrionale: When Renaissance humanism went north I
Chair: Peter Zeeberg

Marianne Pade:

Humanism and Philology

Anders Borggaard: Paternal Princes in Lutheran Northern Europe

Johann Ramminger: Measuring Scandinavian Latin

Book itineraries

Chair: Outi Merisalo

Susanna Niiranen (Zoom):
Building 'Western' identity in East Central and Northern Europe. Sigismund II Augustus' library

Benjamin Wallura (Zoom):
Travelling to and through the Surface: Early Modern Vulcanology and Geology at the University of Helmstedt and the Ducal Libraries of Brunscwick- Wolfenbüttel in the

Metropolitan Itineraries: Social and Textual Mobility in Early Modern London.

Part 1: Moving in and around the London Stage Chair: Per Sivefors

Elisabeth Lutteman:

Borrowed Sounds of the City: Trajectories of an Early Modern English Stage Song

Kiki Lindell Tersmeden:

"With a hey, ho, the wind and the rain": Itinerant Actors, Outdoor Conditions, and Learning

Spiritual, Emotional, and Political Itineraries: Female Dialogues in Renaissance Italy I Chair: Gottskálk Jensson

Unn Falkeid:

Justified Anger: The Body Politics of Margherita Datini (1360–1423)

Eleonora Capuccilli:

Pastoral Missions and Invisible Travels: The Prophetic Itinerary of Caterina da Racconigi

Eleonora Carinci:

From Cloistered Spaces to Secular Places:
Seventeenth Cent.

Bernd Roling (Zoom):

Archives against myths: Johann Heinrich Jung and the Dukes of Bentheim

from the Inside

Metropolitan Itineraries. Part 2: Social Itineraries and Mobile Interaction in the Metropolis

Chair: Raja Sarasti- Wilenius

Anna Swärdh:

'Lunden' in 'ängaland': Early Modern Swedish Experiences of London

Relationships and Movements in Felice Rasponi's Autobiographical Dialogue
10.45–11.15: Coffee Break
11.15–12.45: Papers
Iter septentrionale (cont.) Chair: Marianne Pade

Trine Arlund Hass: Terms of debate

Johannes Isacius Pontanus' Northern Antiquarianism Chair: Marianne Pade

Giovanni Grandi: Pontanus on Curtius Rufus: Antiquarian Philology and Mistakes across Renaissance Europe

Damiano Acciarino: Pontanus and Mythology: The Case of Trigla

Spiritual, Emotional, and Political Itineraries II. Chair: Eleonora Capuccilli

Clara Stella (Zoom):

Authorship and Exile within the Voice of Olympia Fulvia Morata

Outlooks from Iceland on the Early Modern World Chair: Bjørn Bandlien

Lorenz Hindrichsen:

Reading Artefacts as Meta-Commentaries on Global Encounters atÞingeyrar Church, Iceland (1470-1700)

Þórunn Sigurðardóttir:

Disaster at Home and Abroad: The Literary Travels of an Icelandic Poet

Metropolitan Itineraries. Part 2: Social Itineraries and Mobile Interaction in the Metropolis

Chair: Raja Sarasti- Wilenius

Per Sivefors:

Satirical Itineraries: The Elizabethan Road to Success – or Elsewhere

Independent papers: Miryana Dimitrova: Englishmen and Turks Journeying on the Wings of the Ancients: The Image of Alexander the Great as a Meeting Point of Eastern and Western Mindsets in Thomas Goffe's Play The Courageous Turk

Dustin M. Neighbors:

The Huntress' Movements: Women and the Itinerant Nature of Hunting in Early Modern Scandinavia

Expanding Horizons

Chair: Gottskálk Jensson

Mikkel-Theis Paulsen:

Tragicomic Visions of Conquest in Early Modern Spain & England

Randi Lisa Davenport:

Gendered Itineraries: Female Characters' Movements in the Trials of Persiles and Sigismunda, A Northern Story (1617) by Miguel de Cervantes

Christian Dahl og Anne Fastrup:
Involuntary Travels to Foreign Worlds
12.45–14.00: Lunch
14.00–16.00: Papers
The North and the South

Chair: Dustin M. Neighbors

Libraries, Books, Texts, Language on the Move Chair: Outi Merisalo

Gazing into the Beyond

Chair: Unn Falkeid

Unn Irene Aasdalen:

Philosophical Itineraries:

Renaissance Art and Museology I
Chair: Christian Dahl
Northern Itineraries: Johannes, Olaus, and the Carta Marina (1539

Peter Zeeberg:

From Hven to Prague – Tycho Brahe's Last Journey

Gottskálk Jensson:

Boreal Authorities: The Icelandic Humanists' Program of Scandinavian and North-Atlantic History

Raja Sarasti-Wilenius:

Between Scylla and Charybdis. Swedish Treatises on Peregrination (17th and 18th Centuries)

Travelling Books – Literary Spoils of War from Poland in Sweden, and Beyond

Grigory Vorobyev:

Aristotle's Journey from Italy to England: A Traveling Scribe and his Book

Thorbjørn Nordbø:

Machiavelli – Secretary Itinerant

Patrizia Carmassi:

Itineraries through Libraries: Philologists and their Search for Ancient Manuscripts in 17th- Century Europe

Giovanni Pico on the Soul's Decent

Joseph William Sterrett:

'I saw Eternity the Other Night': Metaphysical Images of the Infinite

Else Marie Lingaas:

Orpheus' Journey to the Underworld – a Renaissance Dilemma

Travelling Imagery: Cultural exchange and temporal eclecticism in the Bolognese frescoes of Amico Aspertini

Peter Gillgren:

Marcus Aurelius on the Capitoline Hill

Hanne Kolind Poulsen:

Melchior Lorck's Pictures og 'the Other'

Independent paper: Bjørn Bandlien:
Shaping Royal Identities by Crossing the Sea: The Case of King James of Scotland and Queen Anna of Denmark
16.00–16:30: Coffee Break 
19.00–20.00:
Reception Sponsored by the Neo-Latin Association of Denmark (in the Show Room under the Church). Bergur Þorgeirsson: An introduction to the SSRC (Snorrastofa).
 20.00–22.00 : Conference Dinner at Fosshótel Dining Hall
Friday 30 September
07.00: Breakfast
09.00–10:00: Business Meeting of the Nordic Network for Renaissance Studies (Library)
10.00–10:30: Coffee Break 11.00: Checkout from Hotel
11.30–12:20: Lunch
12.30: Departure from Reykholt to the waterfall Hraunfossar and the national park Þingvellir, the site of the Icelandic parliament from 930 to 1798.
17.00: Arrival in Reykjavík
17.00-18.00: Visit to the Arnamagnæan Institute for Icelandic Studies: Manuscript Presentation
The conference is funded by The Snorri Sturluson Centre in Reykholt, The School of Humanities, University of Iceland, and the Árni Magnússon Institute for Icelandic Studies
1 May – 31 August:
every day 10 – 17
1 Sept. – 30 April:
weekdays 10 – 17
Otherwise by arrangement.